Georgia is the Peach State, so you know we've got some great, fresh peaches around here!
Summer is peach season here in Georgia — it's time for homemade peach ice cream, peach cobbler, peach pie, and just…peaches all on their own.
There are several great places to pick up fresh Georgia peaches, but our favorite is Dickey Farms in the tiny postage stamp town of Musella, Ga. A visit here is a perfect multi-generational day trip, here's why.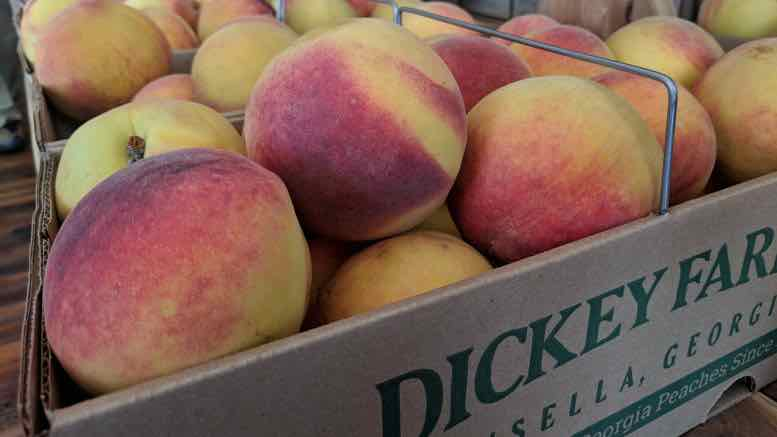 Why We Like Dickey Farms for Georgia Peaches
Musella is about 20 miles off 1-75 near Macon, Ga. I first visited Dickey Farm's Peach packing house on an Explore Georgia press trip. I was so taken with it that I knew I wanted to return, and bring my dad who loves all things rural. So last Saturday, I set out with my 90-year-old father, and 14-year-old son to get some peaches, and homemade soft-serve peach ice cream.
There are less than 10 buildings along Musella Road where you'll find the big white Peach House. The one that immediately caught my father's eye was the old fashioned General Store with the Gulf sign advertising its former life as a gas station. The General Store is located directly across the street from Dickey's.
We pulled open the door that was weighted by an old metal iron to enter the time machine. Rows of merchandise —  some just for show, and some for sale — said this is still a business. The hot seller the day we arrived was barbecue. No fancy signs, just a poster board with the pertinent information and darn good barbecue.


After we sat on the benches of the General Store's front porch to eat our lunch, we took a look at the Ford Model T and the big red Ford tractor sitting below the 'Welcome to Musella' Coca-Cola sign painted on the side of the building. My dad checked out the tractor while a couple posed their 1-year-old in the Model T for a picture. The little guy was looking longingly at the tractor, excitement in his eyes. My dad had that same look.
Dickey's Peach Stand for Fresh Georgia Peaches
After checking out all the tractors, we headed across the street to Dickey's. Unfortunately, the peach processing line wasn't working, there had been a power outage earlier that day and the crews had gone home. Normally you can see them packing the peaches as you rock on the porch eating your ice cream. And oh, my goodness, it's such good ice cream. Homemade with real peaches. It made our list of the best ice cream in Georgia.
My son couldn't believe the peaches were as big as his teenage hand. I told him to go to the tasting section. Who cares how big they are, it's the taste that counts! These were so sweet, I was wondering if we were going to send my diabetic father's sugar count a little too high with just a taste.
We shopped a bit, perusing the peach syrups, the jams and jellies, and locally grown produce. In the end, they up sold us to a case of peaches so we could get the free watermelon. I wish we had gotten a few more. We may need to go back next weekend.
Other Awesome Places to get Fresh Georgia Peaches
365 Daily posts are short and sweet, designed to highlight the discoveries we unearth on a daily basis as we explore Atlanta, the South, and the world!
Follow us here: Facebook | Twitter | Instagram | Pinterest | YouTube
All articles belong to 365 Atlanta Family LLC, and all photos belong to us as well, unless otherwise noted. It's all copyrighted. Please don't repost anything elsewhere without asking me first. All rights reserved. This site uses cookies to enhance your experience.
We make no guarantees of any price listed on our site. We are not responsible for content on external web sites linked from ours, including linked resources, an external blog post, any partner site, hotel property sites, or affiliate sites. We only write about places we love in an attempt to help you in your adventures, but we can't guarantee you will love them, too.
View our Privacy Policy | Subscribe to our Newsletter | Contact Site Owner | View Terms & Conditions | About Us
Latest posts by Sue Rodman
(see all)